The most versatile system for biomedical applications
The ALFA system centers around the ALFA-tag, a novel, rationally designed epitope tag. In contrast to most conventional epitope tags, the ALFA-tag is not an epitope tag that has been found "by chance" as a minimal linear sequence recognized by a monoclonal antibody. Instead, we developed the ALFA-tag based on rational considerations, which enabled us to equip it with desired features defined beforehand. Accordingly, the ALFA-tag fulfills the following criteria:
The ALFA-tag is small, well-soluble, hydrophilic, and features balanced charges. The tag, therefore, is predicted to have minimal impact on the physiological function of the protein of interest it is fused to.
The ALFA-tag sequence is absent from common model organisms. Therefore, any reagents binding the ALFA-tag have a high probability to be highly specific. This is in contrast to common epitope tags like, e.g., the c-myc tag, which has a well-defined target present in mammalian cells.
The ALFA-tag does not contain any residues that are targets for aldehyde-based fixatives. It is therefore by design resistant to fixatives and can be detected even after harsh fixation with PFA or even glutaraldehyde.
NanoTag developed a high-affinity single-domain antibody (NbALFA), binding the ALFA-tag with low picomolar affinity (KD= 27pM) and extremely low dissociation with a half-life of ~15 hours. In experimental setups allowing for re-binding, immobilization may be stable for up to several days.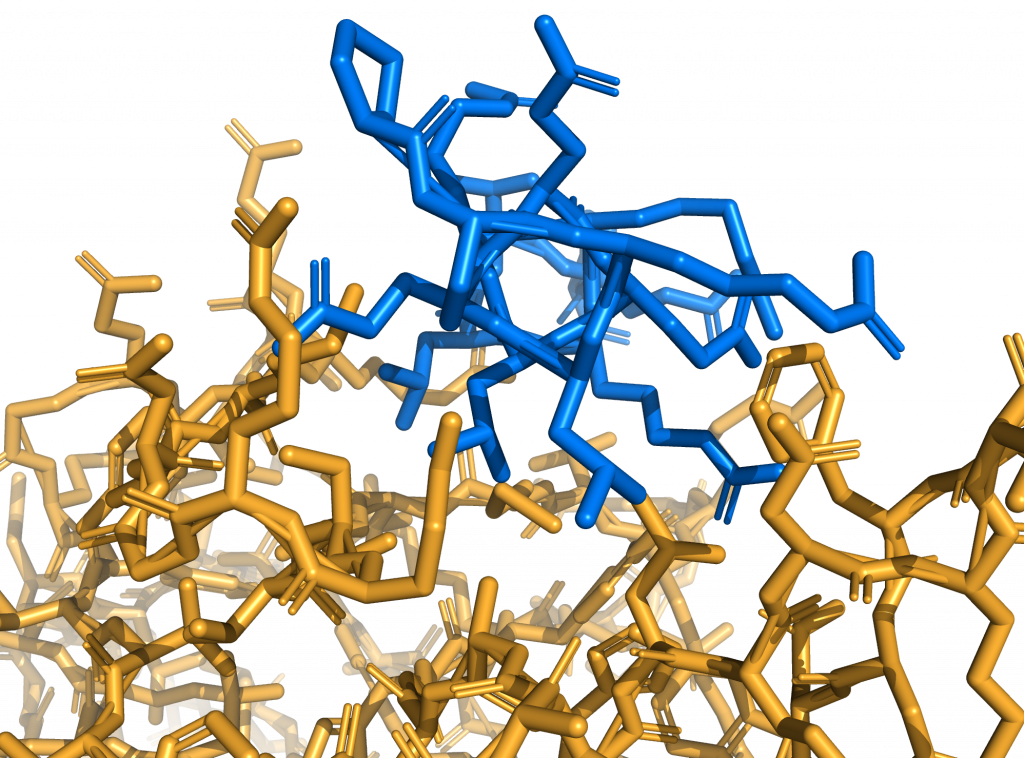 The high-affinity NbALFA is available in various formats: Conjugated to fluorophores (FluoTag-Q and FluoTag-X2 anti-ALFA) or enzymes (HRP) or immobilized on beads (ALFA SelectorST). This set of tools can be used for a wealth of different applications: Imaging of ALFA-tagged target proteins in live or fixed cells, in-vivo manipulation of ALFA-fusion proteins, highly sensitive detection in ELISA or Western-blot assays, immobilization or purification of ALFA-tagged molecules on solid supports or even for therapeutic applications requiring a stable, high-affinity adaptor system. All this using a single tag.
As the sequence of NbALFA (and the ALFA-tag itself) is published, there are no limits for academic researchers to freely use the system and develop new applications based on NbALFA.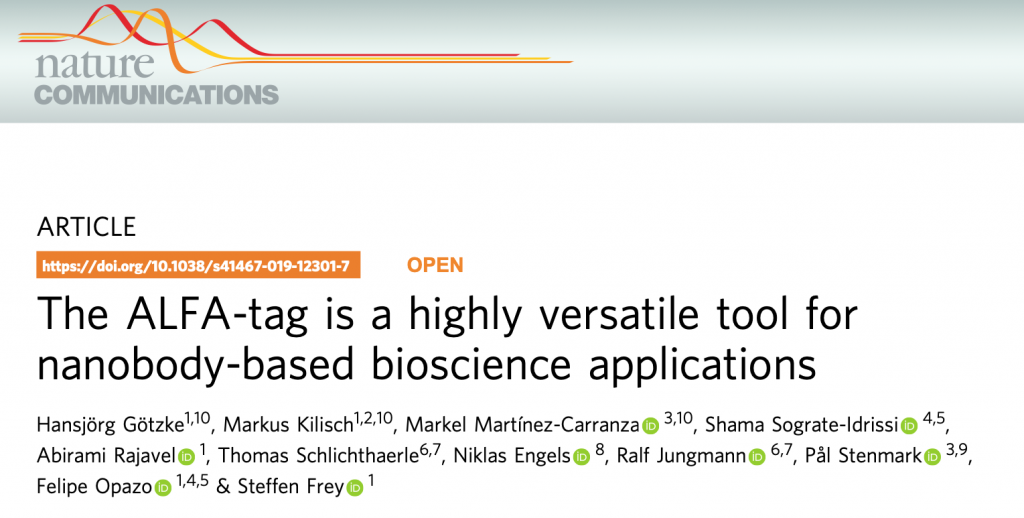 In addition to the high-affinity NbALFA, NanoTag developed a set of two NbALFA derivatives, NbALFAPE (for peptide-elutable) and NbALFACE (for cold-elutable). These NbALFA derivatives feature carefully adapted off-rates, which are ideal, e.g., for biochemical applications. NanoTag's affinity resins featuring these sdAbs efficiently capture ALFA-tagged target proteins even from dilute samples while allowing for a rapid peptide-triggered elution in physiological buffer at room temperature (ALFA SelectorPE) or even at 4°C (ALFA SelectorCE). Together, the set of three sdAbs covers a >1000-fold range of affinities and therefore allows for an unlimited number of applications based on a unique tag.
Additionally, NanoTag is actively developing new ALFA-based tools to broaden the system's applicability. For example, we have generated polyclonal anti-ALFA antibodies, recombinant NbALFA fused to various immunoglobulin Fc domains (ALFA-Minibodies), or bispecific nanobodies that can be used as adaptors.
References
Kilisch, M. et al. Discovery and Characterization of an ALFA-Tag-Specific Affinity Resin Optimized for Protein Purification at Low Temperatures in Physiological Buffer. Biomol 11, 269 (2021).
---